Our Mission
The mission of the Lincoln Avenue Water Company is to reliably provide to its customers and shareholders high quality water, service and maintenance of the Company's resources in an environmentally and fiscally responsible  manner.
State Of California Water Drought Information
2013 was the driest year in recorded history for many areas of California, and current conditions suggest no change is in sight for 2014. Water conservation is always important in California, but this year no Californian can afford to waste any water. We all need to do our part. Therefore, Lincoln Avenue Water Company has taken the following measures:
1.  Mandatory Water Conservation Information  Click here. 
2.  Resolution Establishing a Moratorium on New Water Connections  Click here.
3.  Resolution Establishing a Moratorium on Sale of New Water Stock  Click here.
What we do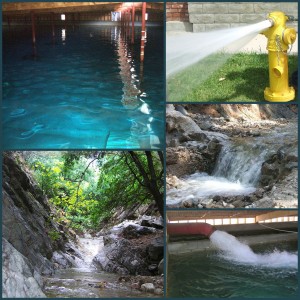 Lincoln Avenue Water Company, a Mutual Water Company, was established in 1883 to supply water to the western region of Altadena, an unincorporated area of Los Angeles County. As a mutual water company, its shareholders are the people that are served by its distribution system. There are over four thousand meters that serve a population of over 16,000 people.
Lincoln Avenue Water Company reservoirs range in elevation from 1202 feet at the main pumping plant to 2146 feet at our highest reservoir. Other reservoirs are located at intermediate elevations and each has a distribution system supplying adequate water pressure.
The Company is not in business to make a profit, but to serve potable water to its owners (stockholders) at cost. The Company is managed by a five person Board of Directors which oversees the Company operations ("Board"). Water rates are adjusted to meet our operating expenses, plus an allowance for improvement and replacement of the water distribution system.
2014 Capital Projects
Infrastructure Upgrade / Current Projects
Distribution / Facility
North Glenrose Reservoir Roof-Support (Structure)

Ware Reservoir - Solar System

Glenrose Booster #1 and Olive Booster # 5  Rehabilitation

Ware Reservoir - Ventilation Up-grade

Well #3 Performances Inspection and Evaluation

System Isolation Valve Replacement

PVC Service Line Replacement

IX and GAC Valving Modification and Up-grade

Scada System Up-grade

Utility Billing System - Up-grade
 Pipeline Replacement
East Mariposa St.-

(Fair Oaks to Raymond - 1186' of 8" Cement Lined Steel Pipeline)

Altadena Dr.-

(Altadena Dr., to Casitas - 962' of  8" Cement Lined Steel Pipeline)

Crestford North of Altadena Dr.-

( 648 ' of  8" Cement Lined Steel Pipeline)

Ridgeview-(Altadena Dr., South to Mariposa - 648' of  8"  Cement Lined Steel Pipeline)